Upcoming Shows:
Click on artist name for more information about the artist.
To see recommendations from artists, click here.
Suggested donation $10-$20. RSVP required.
Email pamjohnson05@suddenlink.net to RSVP, and the address will be included in the confirmation.
2017
After decades touring as keyboard player in bands and as a successful NYC record producer and arranger of TV ads, KENNY WHITE left it all in 2001 to write songs of the human condition, from the humorous to the heart-stirring, accompanying himself on piano and guitar. He has been compared to performing songwriters as diverse as Randy Newman and Leonard Cohen, and often tours with Cheryl Wheeler and with Judy Collins, who released 3 CDs on her Wildflower label to critical acclaim. He is currently touring in support of his long-awaited new album, the aptly named LONG LIST OF PRIORS.
July 9: Tom Meny with Jaimee Harris
Amongst the many singer-songwriters that grace our lives with their lyrical genius, Tom Meny's songs cut through with frank honesty.  The sheer humanity in his voice puts a spotlight on every listener as though Tom is singing just for you, with melodious observations that articulate the occasional drudgery of everyday life.  Tom first played guitar as an impressionable 10-year-old, but it would be over 20 years later before he would share his talent with the world.  From seeding out his songs on YouTube (with over 2 million views to date) to captivating audiences live, Tom unites us through sound with the joy and pain of living, crediting influences such as John Mayer, Glen Hansard and Jason Isbell.
You can easily cite Tom as an influence too though, with his appeal receiving multiple endorsements including 2016 Telluride Bluegress Festival - 'Troubadour Competition finalist', 2015 Kerrville Folk Festival - 'New Folk Winner' and 2013 TRCOA - 'Singer/Songwriter Competition winner'.  His natural talent has attracted musicians near and far to collaborate on various projects, with venues regularly playing proud host to his abilities with performances at Austin's legendary Cactus Café, Strange Brew Lounge Side and The Saxon Pub, to further afield in San Antonio (The Tobin Center for Performing Arts), La Grange (The Bugle Boy) and New York City (Lincoln Center).
Building on the unquestionable success of his last two albums 'Songs I do' and 'On My Way', Tom continues to enthrall us with his third album 'Love & Pay' delivering a fresh collection of heartfelt songs with highlights such as 'Nothing feels as good as you do' and 'Stones'.  There is a poignant quality to Tom's lyrics that gives us a platform for those silent thoughts in our head.  'It seems like there's not enough hours in the day, to do the things I love and to do the things that pay', taken from 'Hours' is a line we can all relate to.  Throughout all his songs, you can sense Tom is finally fulfilling his true calling; as an orator for our souls.
2015 - Winner of the Kerrville Folk Festival's Grassy Hill New Folk Competition

2016 - Top 5 Finalist  2016 Telluride Blugrass Festival Troubadour Competition.

2013 - Winner of the Recording Conservatory of Austin's (TRCOA) Singer Songwriter Competition

2013 - Winner of the Stonevalley Texas Songwriters Competition

2012 - Southwest Regional Winner: Mountain Stage NewSong Contest

2012 - Top 5 Worldwide Finalist NPR Mountain Stage Newsong Contest (Lincoln Center, NYC)
​Jaimee Harris has captured the audiences of living rooms, sold out clubs, and listening rooms with her unique blend of pop melodies and folk rooted lyrics.  Since making Austin her home in 2009, Jaimee Harris has found herself working with some of the city's finest (Jimmy LaFave, David Ramirez, Kalu James, The Painted Redstarts, The Purgatory Players, The Bump Band).  She began playing guitar at age 5, and she started writing songs almost immediately and she hasn't stopped. Drawing from musical influences as diverse as Patty Griffin and The Nerves, Jaimee's musical palette is as broad as it is deep. She has played with and opened for such artists as Peter Case, The Black Crowes, Bob Schneider, Matt Nathanson, Jessie Baylin, Jon Randall, and Jack Ingram. Jaimee is looking forward to working with Austin producer Craig Ross (Patty Griffin, Spoon) to bring you her first solo record in 2016.
December 17: Ordinary Elephant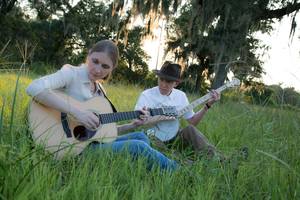 It won't take you long to hear that the Texas Music Journal was right— "the part that becomes magic for Ordinary Elephant is the blend, the sound that becomes more than the sum of the individual parts."
After growing up a state apart, the husband and wife duo found each other in a small Texas town, watching each other perform at a weekly songwriter night in late 2009. Over many late-night games of Bananagrams® and weekly jam nights, the two would never have imagined where they are today—traveling the country with 4 dogs in a 200 square foot box on wheels—but they did find in each other someone they didn't know they were searching for, and their music took a new direction.
From an early age Pete has been a guitarist, but once Gillian Welch's "Hard Times" came across his car stereo speakers, the banjo beckoned. The realization of how well the clawhammer style he was unearthing complemented Crystal's lyrically rooted singer-songwriter approach was a happy accident at the kitchen table one night, which led to many more nights of collaboration. 
Performing together turned into writing together, and Ordinary Elephant's sound took shape. They are "firmly situated in a time-honored folk/bluegrass milieu. Their songs sound new and old at the same time," says Stephen Carradini of Independent Clauses. Listening toOrdinary Elephant,you will hear thoughtful melodies, comfortable arrangements, understated banjo, and honest songwriting performed with purpose; all entwined with ripe vocal harmonies, "…like their voices were made to go together and we'd all feel deprived if for some reason they chose not to sing together," says Bill Aspinwall of Texas Music Journal.
With a move in late 2011, Crystal and Pete brought their music to Houston, where they discovered the city's supportive folk/roots community. By 2013, they found producer Jack Saunders and recorded their debut album, dusty words & cardboard boxes, at White Cat Studios. The track "The Great Migration" was named the winner of a songwriting contest held by the non-profit organization Music Doing Good in late 2013, and the couple's performance on this album garnered a nomination for Vocal Duo of the Year at the 2014 Texas Music Awards.
Later in 2014 Ordinary Elephant took on a big change, shedding most of their material possessions and sticks-and-bricks home to become full-time nomads. They have been traveling the country with their dogs in their motorhome, Millie, continuing to hone their songwriting. The duo is crafting songs that are gaining accolades; songs that have afforded them the opportunity to participate in the 2015 and 2016 Songwriter Serenade competition in Moravia, TX, and to attain an Official Alternate Showcase performance at the 2015 Southwest Regional Folk Alliance.
You can find Ordinary Elephant traveling the U.S., finding adventure, performing, writing, and preparing to release their new album. 
Achievements
2016 Songwriter Serenade Finalist - 6th Place
2015 Southwest Regional Folk Alliance (SWRFA) Official Alternates Showcase artist
2015 Songwriter Serenade Semi-finalist
2014 Texas Music Awards Nominee - Vocal Duo of the Year
2013 Music Doing Good with Lyrics songwriting contest winners
Coming in January 2018: Mystery Loves Company
Coming in June 2018: Hans York
Past Shows:
March 5, 2017: Vellamo
Political Satire Night at the Coffeehouse
February 17, 2013: Vellamo (from Finland)
November 11, 2012: Tim Grimm
April 1, 2012: Kevin Higgins & Barbara Malteze
past contestant on The Voice